Aflac® Cancer Insurance
The reassurance you need from diagnosis to recovery
Request your complimentary, personalized quote.
Let Aflac cancer coverage help get your ducks in a row
A cancer diagnosis can be a difficult and emotional experience—both for you and for your loved ones. It's more than hard enough without having to worry about mounting medical bills too. Not to mention, living expenses or lost income. That's why there's Aflac cancer insurance.
Hopefully, you and your loved ones will never be diagnosed with cancer. But if you are, you can turn more of your attention toward treatment and recovery and less toward your out-of-pocket health care costs. Aflac will be there to help ease your financial burden. Treatment-based and lump-sum benefit options are available, so speak with a licensed Aflac agent today to learn more.
What exactly is cancer insurance from Aflac?
If you already have health insurance, your policy will likely take care of the bulk of your cancer treatment costs. But what about your deductibles, copayments, coinsurance, and other out-of-pocket costs? What about your everyday living expenses?
Aflac supplemental cancer insurance helps with these expenses that may come up by providing cash benefits that you can use any way you choose. Think of it as something extra to help with your costs during your cancer treatment and recovery process.
Focus on healing, not your bills, with Aflac cancer benefits
Perhaps the greatest feature of Aflac cancer insurance is that your cash benefits are flexible. Meaning, you can use them to help pay for any number of out-of-pocket medical or living expenses that may arise as part of your treatment program.
Aflac cancer insurance benefit options: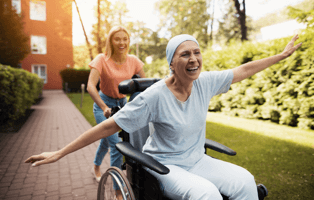 PORTABLE OPTION
Take your cancer coverage with you if you retire or switch jobs.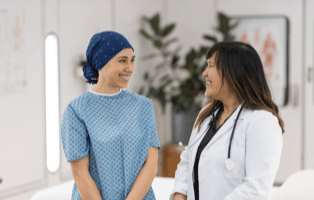 TREATMENT-BASED OPTION
Receive your cash benefits in multiple installments as you receive treatment.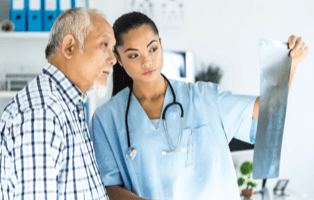 LUMP-SUM OPTION
Get your cash benefits in one lump sum after your initial diagnosis.
What does an Aflac cancer policy cover?
Aflac pays cash benefits directly to you (or your specified assignee), so you can choose how to use your benefits.
Your Aflac cancer insurance benefits may help cover:
Deductibles, copayments, and coinsurance
Out-of-network care
Living expenses
Other expenses that may not be covered by your primary insurance provider
How does Aflac cancer insurance work?
Following a cancer diagnosis, you've got enough to worry about. That's why getting the help you need from Aflac to take care of your medical bills is a lot easier than you might think. Simply upload your info via the Aflac SmartClaim® app, and then let Aflac take care of the rest. It's that simple.
A start-to-finish cancer insurance claim example: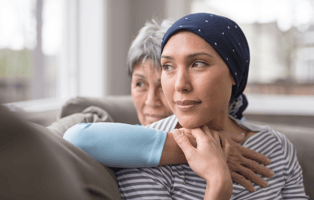 STEP 1
You or a loved one is diagnosed with cancer.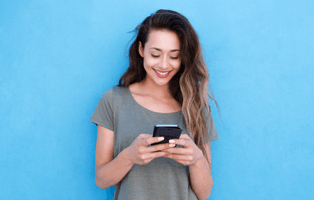 STEP 2
You submit your cancer claim via the Aflac SmartClaim app by 3 p.m. ET.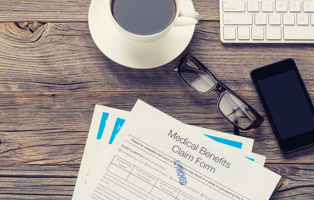 STEP 3
Aflac processes your claim in one business day and you receive cash benefits.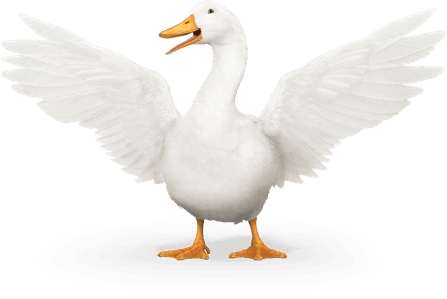 How much does Aflac pay out for cancer treatment?
No two patients are alike, and the cost of cancer treatments can vary a lot based on your diagnosis as well as your prescribed treatment program and location.
The fastest and easiest way to find out how much you can expect your potential cancer policy to help cover is to speak with a licensed Aflac agent today. Your agent will provide you with a detailed cancer insurance quote specific to you, your family, and your circumstances.
Get money for your cancer treatment fast with One Day Pay℠
If you or a loved one has cancer, the last thing you need is to have to wait for your insurance provider to pay on your claim. Fortunately, with Aflac One Day Pay℠, you'll never have to. Just follow the three simple steps below, and Aflac promises to process and pay on your cancer insurance claim in one day.
Three simple steps to get paid fast:
One Day PaySM is available for certain individual claims submitted online through the Aflac SmartClaim® process. Claims may be eligible for One Day Pay processing if submitted online through Aflac SmartClaim®, including all required documentation, by 3 p.m. ET. Documentation requirements vary by type of claim; please review requirements for your claim(s) carefully. Aflac SmartClaim® is available for claims on most individual Accident, Cancer, Hospital, Specified Health, and Intensive Care policies. Processing time is based on business days after all required documentation needed to render a decision is received and no further validation and/or research is required. Individual Company Statistic, 2019.